Description
Highlight
SQUARE DESIGN
Upgraded Dual Eye 2.0™
Digital Bumper
Easy-out Dust Bin
My Space
Consumption Power:15W
Cleaning Extent ㎡ (without recharging):150㎡
Charging time:3hr
Battery Type:Li Ion
Capacity:14.4V/2330mAh
Suction Power:6W
Number of Cleaning Mode:7
Navigation System:Robonavi 10.0
Auto recharge after cleaning
Auto Cleaning the uncleaned area after recharge
Dust Bin capacity:0.6L
Product Dimension (WxDxH):340x340x89(mm)
1 Year General Warranty
10 Years Motor Warranty
Model : LG 15W Hom Bot Vacuum Cleaner VR65713LVM

SQUARE DESIGN
Because of the square design, the side brushes are placed closer towards the front.

Longer Side Brushes
HOM-BOT SQUARE thoroughly cleans corners due to 1.5cm longer side brushes

Smarter Corner Cleaning
HOM-BOT SQUARE's corner cleaning performance has improved by 89 and its cleaning efficiency has been enhanced to 94

Upgraded Dual Eye 2.0™
HOM-BOT SQUARE's Dual Eye 2.0™ has been upgraded and now automatically calculates the intensity of light and scans the ceiling. Whether it is bright or dark, Dual Eye 2.0™ can take clear pictures of the room and minimize wandering.

Digital Bumper
Multiple sensors recognize obstacles and minimize collision. LG HOM-BOT SQUARE knows how far the obstacles are while others are "bump to know'.
- Ultrasonic sensor of HOM-BOT SQUARE senses wider and more precisely. It can even sense glass and transparent objects.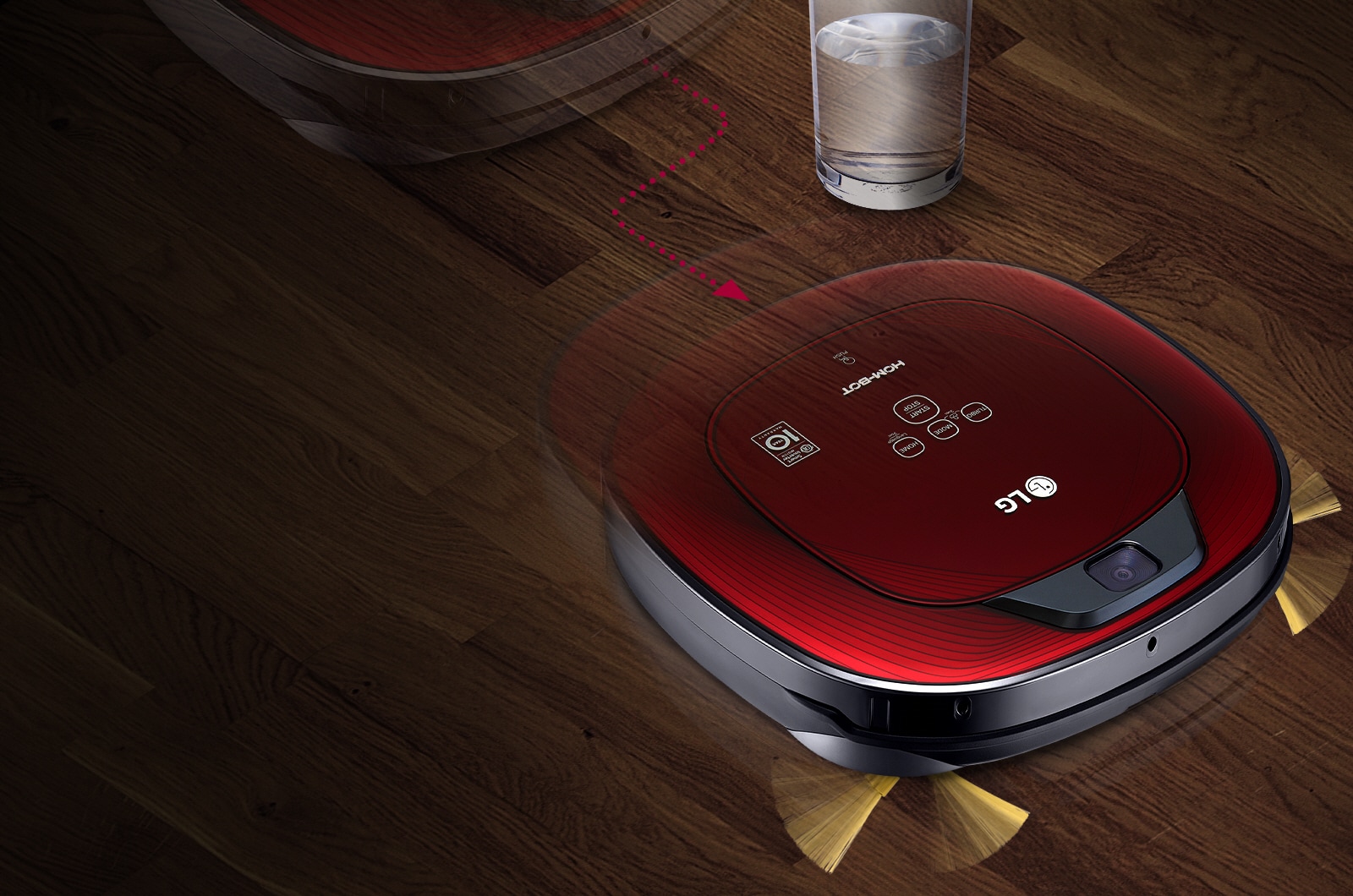 Easy-out Dust Bin
HOM-BOT SQUARE's Dust bin is designed to take out from the top. Easier to use than the sliding type of conventional robotic vacuums. This minimizes hassles of residual dust around the dust bin slot and prevents flying dust when emptying. HOM-BOT SQUARE has a bigger capacity (0.6L) for more dust intake that makes less effort to dump the dust bin.

My Space
LG's unique program which allows to clean efficiently the inner space you have selected twice repeatedly with Zigzag mode. Efficient for any space with many obstacles.
Smart Exit
01. Exit from Carpet Seam & Wire
This keeps HOM-BOT from getting stuck on closed space, carpet seam and wire, helping it to clean on its own.
02. Exit from Circular Obstacle
With controlled self operation vacuum cleaning system, obstacle detectors, HOM-BOT Control Program moves beyond an obstacle without stopping.
03. Exit from Window Frame
With Smart Exit , HOM-BOT recognizes window frame. This prevents Hom-Bot from getting stucked
04. Exit from the closed space
Once HOM-BOT is stucked at aperture, it performs all motion sequences to escape after the certain period of stuck in.
Front Placed Nozzle & Bigger Slide-in Mop
Nozzle of HOM-BOT SQAURE is located closer to the front than other Robotic cleaners' one so that HOM-BOT can give better dust Pick Up not having any scattering dust.
2.5 times larger, HOM-BOT SQUARE bigger mop makes your home spotless and Slide-in Mop makes it more easy and convenient to replace mop.

Reviews (0)
view all
back
What's in the box
1 x LG 15W Hom Bot Vacuum Cleaner VR65713LVM
1 x User Manual
1 x Warranty Card